Sandro Heitor – The Life Athlete – Property Investor
Sandro was a property developer and investor ready to write and publish his book but he had no idea how to do it. He trusted his gut feeling and started the Brand For Speakers Programme which lead to having his book featured in the bookstores in Ireland, international speaking opportunities, a new wellness brand on the way to being created, new clients for his maintenance division of his company, speaking daily on social media after overcoming his fear of speaking at our event Speakers Are Leaders (despite never speaking before our event in front of large audiences), speaking in London and Singapore, selling tickets to his new property workshop, raising his profile on social media, being featured in media, being introduced to potential clients for his property development business and sharing the stage at our Speakers Are Leaders and Entrepreneurs Are Leaders events with multimillionaires, celebrities and high profile people.
---
"My name is Sandro Heitor, co - founder and one of the directors of Trio. We are a property development, maintenance and contracting business with a difference. In 2019, it was time for not only my company to get into the public eye but myself, I felt it was time for me to share with the world my talent and vision. For this I knew I need a strong marketing and brand awareness entity to put me in the "light" so I found Lily Patrascu, founder of Brand for Speakers and after the first consultation with Lily, I knew she was the right one. Not only because of her successful case studies but her eye for detail and her drive to make sure I would get success out of it, she made me feel that my success would be her success. Because of Lily's great Branding techniques and her network, in the space of 4 months I have seen an amazing transformation in all areas of my life, she helped me publish my book, she has got me on an international stage in Singapore through her other business "Speakers Are Leaders" and has really put me in the public eye faster than I expected. I have no doubt that I would continue using Lily's services and collaborate on various ventures and opportunities with her brand and companies. I recommend Lily for your Branding and Marketing needs without hesitation."
Harry Sardinas
Harry Sardinas is an empowerment, public speaking, and leadership coach. He is a fantastic speaker but was struggling to put his ideas in writing. Lily helped him monetize his knowledge by creating a book that was turned into an international workshop listed alongside world's best courses. They worked together on a book writing system to brand his book, create a great title, organise and structure his ideas and created the book Speakers Are Leaders - which they co - authored, then she published the book which has been turned into an international workshop selling thousands of pounds a year based on a few systems created by Harry, currently running in UK, Singapore, Mexico, Peru. The workshop created based around the book has so far trained financial institutions, universities, coaches, directors of companies, influencers, politicians,authors, hotel chains.
---
6 Years ago, Harry Sardinas was really keen to write a book about how to succeed in London in order to get visibility, exposure to start his speaking career and help attract more clients to his property business. Lily Patrascu interviewed him and organised his ideas into a book called 'Climbing Big Ben. How To Survive, Thrive and Succeed in London', which became a bestseller and kickstarted Harry's speaking career. He also gained multiple speaking gigs, shared the stage with millionaire speakers such as Tony Robbins, Les Brown, Raymond Aaron, Armand Morin.
Jimmy Asuni – The Motivational Speaker With Cerebral Palsy
Jimmy Asuni - Unstoppable Jimmy - was a motivational speaker, banker and property owner. He was already a powerful speaker and he got inspired to write his own book when he came to Speakers Are Leaders Programme. Through Brand For Speakers Programme, he was able to have his book written, published and branded and he is now confidently sharing his story at work and at various speaking gigs. His book is being read by heads of departments at the bank. He has already sold many books in UK. His book was even bought in Singapore whilst Lily was speaking there.
---
"I am a motivational speaker, banker and author of the Book "Dare To Be Imperfect".  Lily is one of the best at what she does, she is great at branding. I met Lily at her Speakers Are Leaders event she organised.She immediately spotted my ability of delivering a powerful speech, which I did not know I had in me. She immediately said she saw something special about me and said she would like to help me to gain incredible height in speaking. She helped me organise my ideas and created a book out of my ideas, which she helped me create great branding for and she helped me publish my first book "Dare To Be Imperfect". She is incredible at creating something out of nothing. I have great respect for what Lily does. I am grateful for the working relationship we have formed and looking for continuously collaborating successfully with Lily to monetise my knowledge.
Adaobi Onyekweli – The Reinvention Coach
Adaobi was a housewife who had suffered 5 heart attacks in 4 days. She had a big dream of inspiring single mums and becoming a speaker but she was discouraged by friends. The Brand For Speakers Programme enabled her to become the author of "Reinvent Yourself", and get invited to speak on TV, to get awards and to speak at multiple events. As a result of doing the book, she gained confidence, felt empowered and started seeing the beauty in her again.She is now a reinvention coach, helping people overcome difficult situations and she is building a business helping people reinvent themselves. The Speakers Are Leaders Programme enabled her to become a confident speaker and soon an international speaker. 
---
"Hello, my name is Adaobi. I'm a mother of two beautiful children. One and a half years ago, I survived a heart attack and nearly had my life support switched off five times. A friend of mine called Nicky insisted Lily could help me but I was very sceptical.  Thanks to Lily I was able to change my thoughts. I started to believe in myself again. And today I've been able to put my dreams of writing my story into a book called Reinvent Yourself.  This book has changed my life because I was able to put all the things that happened to me in the hospital in the book and everyone has become very interested in the book because they could see how they can help themselves. This book will help you to heal If you have any dramatic life event. It will also help you to help your family. Harry and Lily are the best."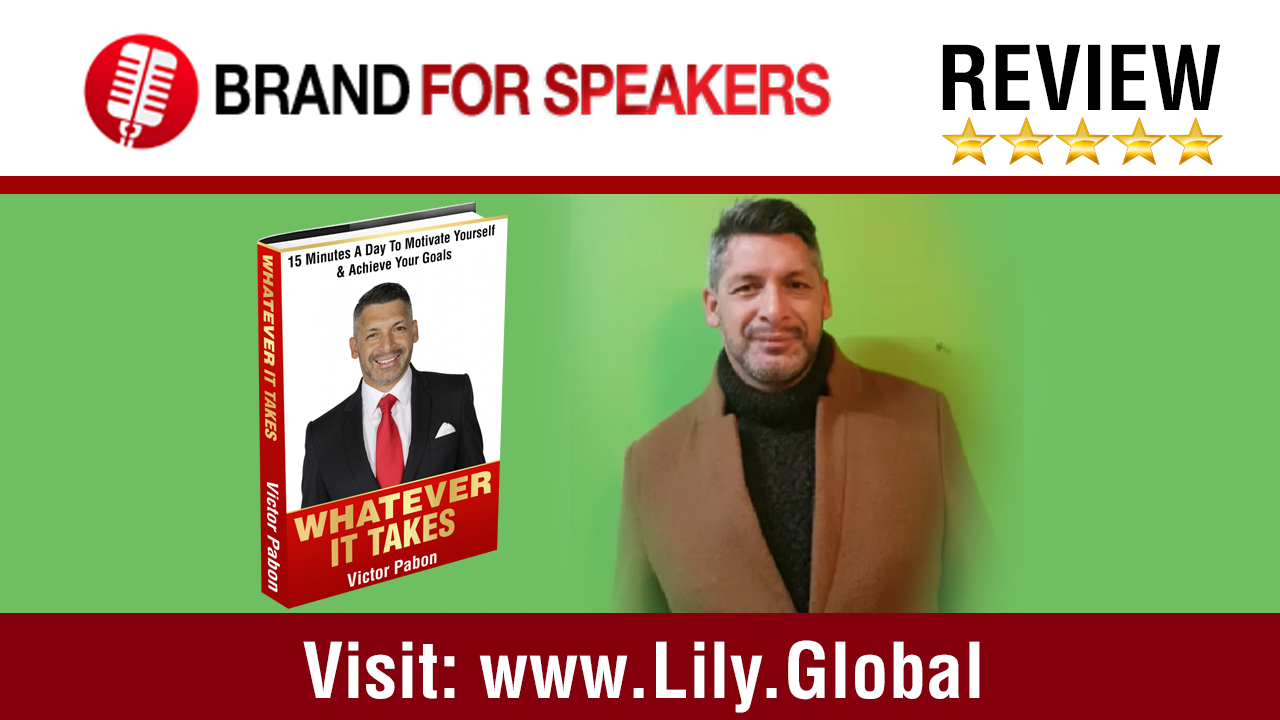 ---
Victor Pabon
Victor Pabon is a property millionaire, property investor, motivational speaker and the author of the book "Whatever it takes". He wanted a hassle - free, time effective way to get his book done. He got his book branded, his ideas organised and the book published in 30 days and now he is ready to start motivating thousands around the world
---
"Hi, I've been investing in property for the last 10 years receiving passive income. I was considering to write a book, because I wanted to enhance my profile and reach and inspire thousands of people to achieve their dreams. I knew writing a book will be complicated especially because I am not an expert of it. So I have to follow my own advice to go to the people that knows. So I decided to take the author program of Lily Patrascu, Brand for Speakers. We created together a perfect title and she created the branding for my book. She coached me on my personal branding, created a super book, organized my ideas and published it in 30 days. That was like my ideas coming alive. It enhanced my social media profile, it gave me more visibility and now I am ready to speak around the world to inspire thousands of people. I highly recommended Lily if you want to have your book branded, written and published because she made it possible for this dream to come true, faster and trouble free. My name is Victor Pabon, property millionaire, property investor, motivational speaker and author."
---
Teuta Avdyli – The Empowerment Coach
Teuta Avdyli was a passionate housewife who survived a major lorry accident and overcame various obstacles in her life. She knew she had a story to tell but she had no platform to share her story to.She had a secret dream of creating a book that would tell her story in order to inspire others to believe in the power of spirituality. The Brand For Speakers Programme enabled Teuta to get her book written, published and branded. Through the Speakers Are Leaders Programme she got trained to speak to inspire and she is now on her way to becoming an international speaker. Thanks to becoming the author of "Born To Stand Out, Not To Fit In", she was almost immediately offered speaking opportunities, an award, and she was invited to speak on TV. She is now creating a business as an empowerment coach based on the system she created in the book. She is also creating a tribe focused on positive parenting and a new book on positive parenting. Her books are selling in the UK, and were even purchased in Singapore when Lily spoke there.
---
"My name is Teuta. I am on my way to become an international public speaker in empowerment, positive parenting and spirituality.I am a survivor of a big lorry accident. I wanted to do something different and I went to different courses trying to find something that would work for me. I attended many events, but nothing that was promised was real to me until I met Lily Patrascu and Harry Sardinas. Lily helped me step by step how to write my book.She was very accountable. I really highly recommend Lily. She will really make your dream come true."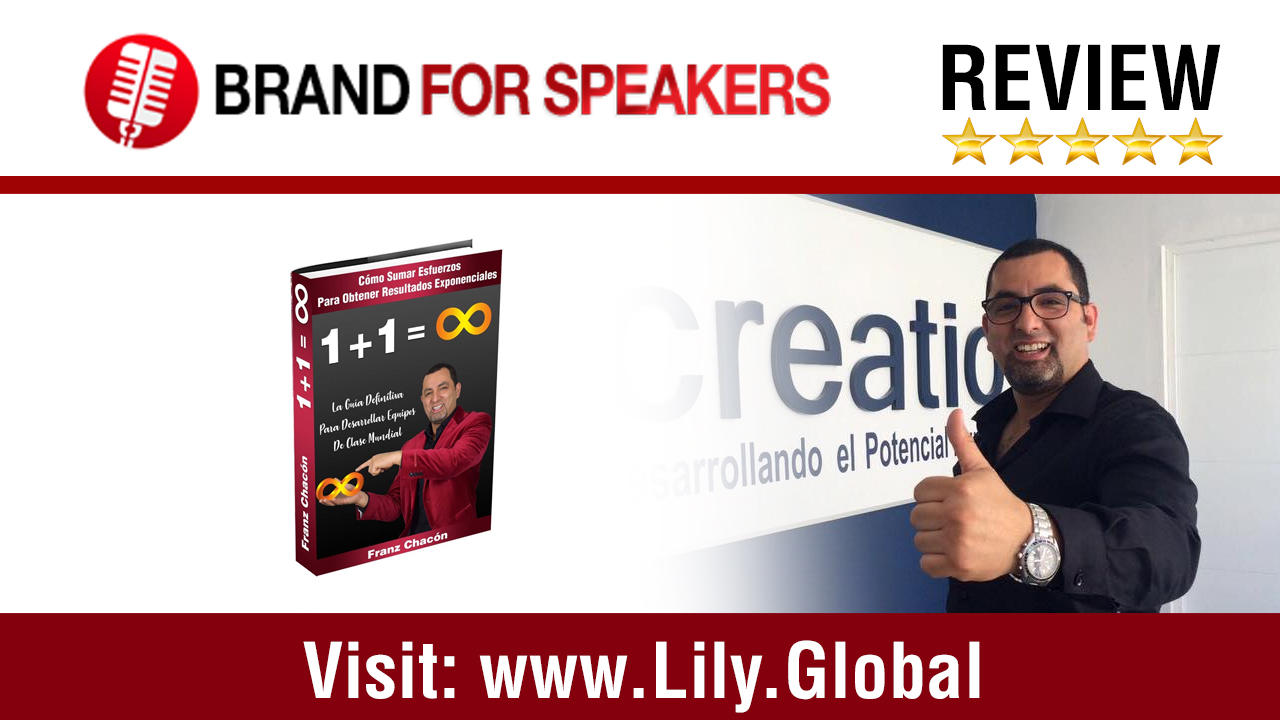 ---
Franz Chacon
Franz Chacon is the Author of the upcoming book "1 + 1 = Infinite: The Definitive Guide To Create World Class Teams" & considered one of the best organizational coaches in Latin America.He has trained large businesses and educational organizations in Latin America and the United States, such as Mercedes Benz, Oracle, Experian, Volvo, Telefonica, Tottus, Ransa, Isco, San Martin de Porres University, Inkacola, etc. He was unsure how to choose the perfect book for his audience based on such a wealth of experience, so he consulted Lily Patrascu, and together they worked on his perfect title, with a great message and on his personal branding as well as choosing the book to position him as an expert. He enhanced his visibility, exposure, and is fully booked for corporate trainings in Latin America.
---
"Hello, I want to talk about my experience with Lily and Harry. Thanks for their teachings, I have finally been able to write my book. I am Franz Chacon, coach in South America of companies, such as Volvo, Mercedes Benz and I highly recommend the work of my mentors, Harry & Lily. Thank you."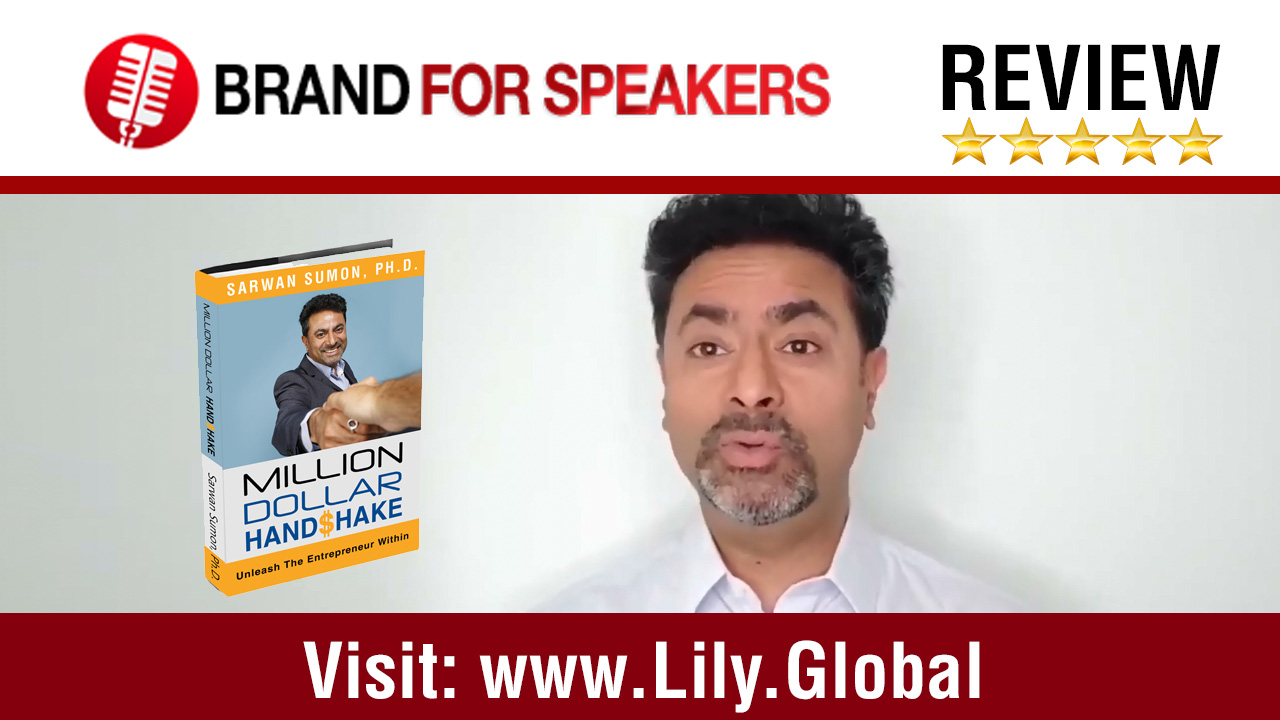 ---
Sarwan Sumon
Author, International Speaker & Business Coach
---
Just to mention Lily Patrascu who helped me design my book cover, banners and business cards through her Brand for Speakers programme. She's very helpful and efficient on what we have agreed. If you have an idea for a book or need help for the design of a book cover, then I highly recommend that you get in touch with Lily as she would take care of everything.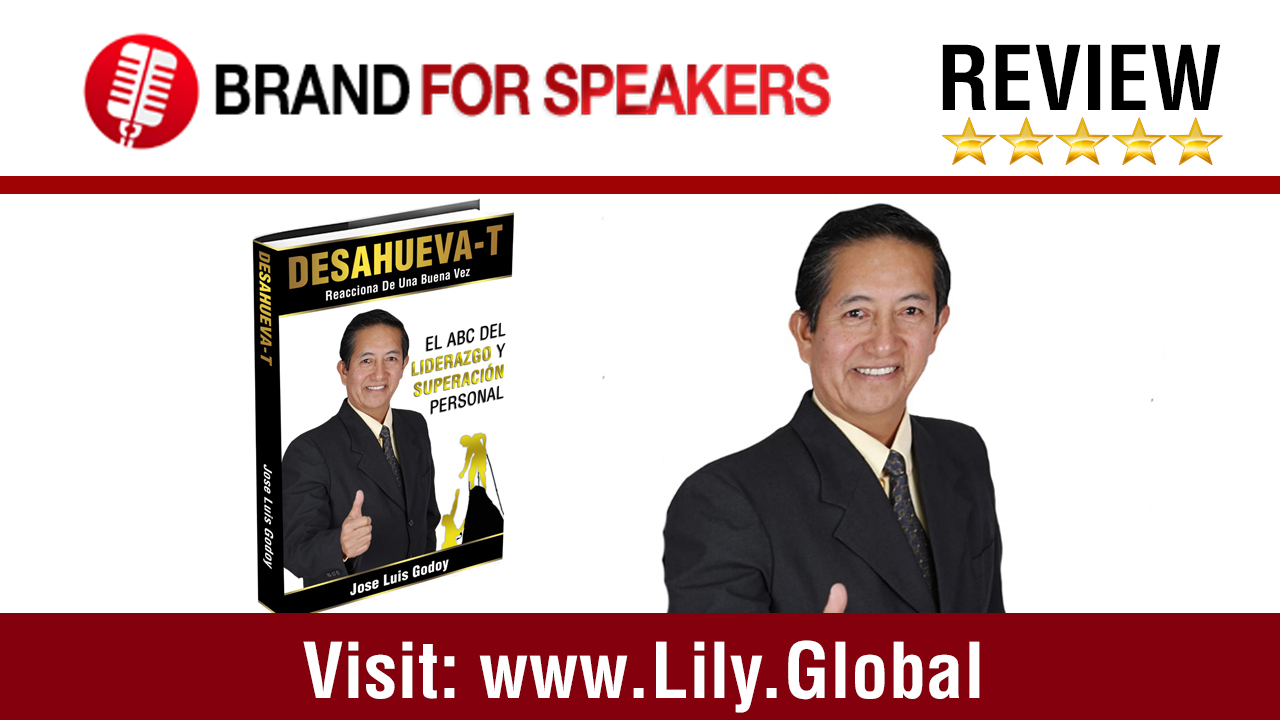 ---
Jose Luis Godoy
Firewalking Empowerment Coach in Peru. He is the leading Firewalking Coach in Peru. He has trained people in luxury hotel chains, universities, companies in Latin America. He has been delivering firewalking, empowerment, motivational and & teambuilding business coaching for the last 20 years and was considering writing a book because he wanted to enhance his profile.
---
"Hi, my name is Jose Luis Godoy.I am the #1 Firewalking Coach in Peru.I have trained luxury hotel chains, universities, companies in Latin America. I have been delivering firewalking, empowerment, motivational and & teambuilding business coaching for the last 20 years and I was considering writing a book because I wanted to enhance my profile. Then I met Lily Patrascu with her Brand for Speakers Program. We created together a perfect title and she created the branding for my book.She coached me on my personal branding and she created a fabulous book cover for my upcoming books, Desahueva-T -which was a dream come true and enhanced my profile in social media, increased my visibility, got me several paid speaking opportunities for corporate training for companies. I highly recommend Lily if you want to have your book branded, written or published because she has made my dream come true to have a book done faster than I ever imagined. My name is Jose Luis Godoy - and I am #1 firewalking empowerment coach in Peru.
---
Tom Thompson – Tree Consultant
Lily is amazing at enabling an improved reach through a more authentic and consistent branding.
---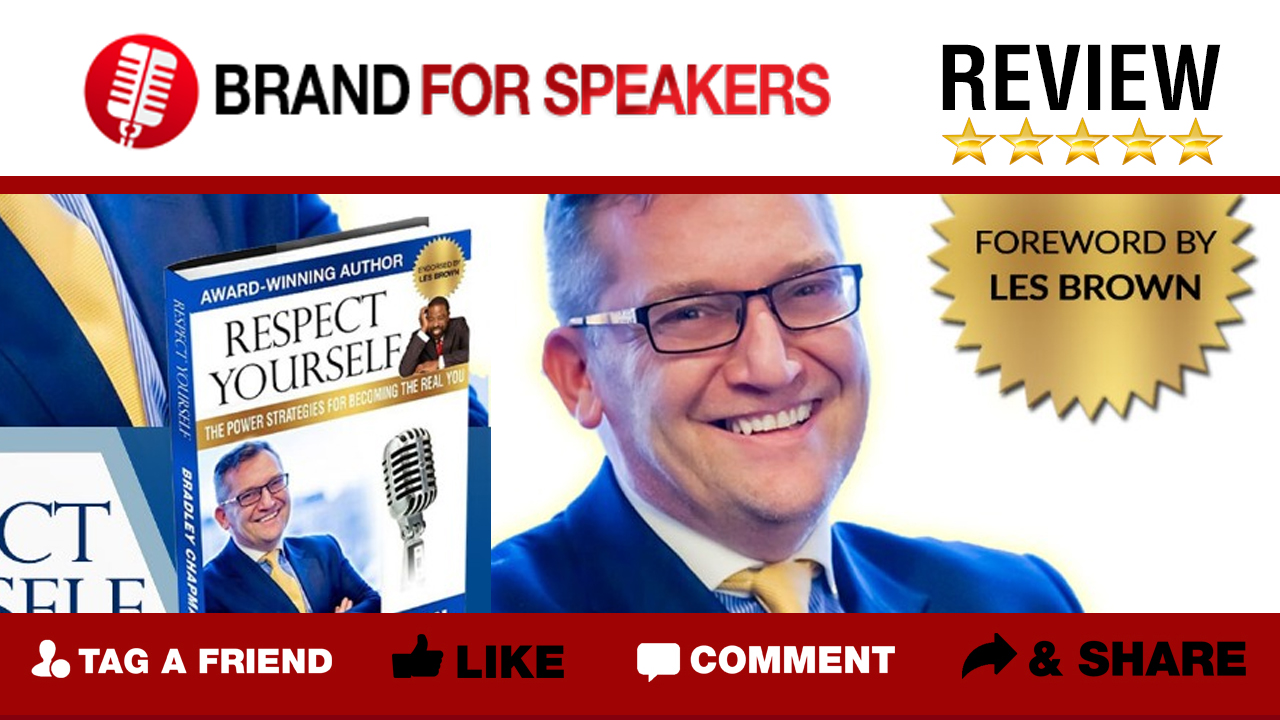 ---
Bradley Chapman
Bradley Chapman is an influencer, founder of Yes You Can - Inspired To Achieve Events, founder of The Diamond Experience. Lily Patrascu created the branding for his book cover because he was due to meet Les Brown. His book has been endorsed by Les Brown.
---
"My name is Bradely Chapman, founder of Yes You Can, Inspired To Achieve. I just wanna say, thank you to Lily Patrascu for creating a book cover for my recent book, Respect Yourself, The Power Strategies For Becoming The Best Version Of You. She's helped me to elevate the brand of my book and the brand now is well received across my network and around the world. I wouldn't hesitate recommending Lily to help you with your brand of your book and indeed for your business as she'll help you move your brand forward to new heights to help elevate you to a new place. Once again, thanks Lily and thanks to Harry Sardinas as well. Thank you both for the business, that you have the people that you are. For myself and for everybody at Yes You Can, Inspired To Achieve, we wish you every single continued success. Thank you guys, take care."
---
Moctar Adeleke
Entrepreneur, author, philanthropist and life coach. He is an IT System Engineer, a Project Manager and an Infrastructure Architect. Two years after arriving in London, he set up his own IT consulting business and worked with fortune 500 companies. He is also the author of the upcoming book Stop Wishing and Start Doing
---
"I have attended Lily's Increase your wealth as a speaker preview and I was astonished by not only the depth of knowledge that she has but also the quality of the information that was shared and the relevance of those information to the speaker that I am. Lily's preview has given me some tools and techniques that I could apply straight away to elevate my brand as a speaker, to position myself and to develop my marketing in a way that simple, automated and really effective. Thanks to Lily, since the preview I can confidently say I know now what I need to increase my wealth as a speaker and I cannot wait to attend the full event in order to dwell deeper and get more incredible insights and knowledge about what is require for me to increase my wealth as a speaker. Thank you Lily."
---
Aminu Ahmadu – Value consultant, Entrepreneur, Business analyst, Educator, Speaker
I have attended many Speakers are Leaders seminars and I must say no two seminars are the same, there is always a new knowledge and experience to come out with. I have been able to create My signature presentation, learned so much about personal branding, book writing and also monetising my speaking business. Lily's hands-on approach and passion guarantees success for all her clients. I am part of her mastermind group and this gave me the opportunity to work with her one on one and this has helped me transform my business tremendously. If you looking at writing a book, becoming a speaker or rebranding your business so you can generate more leads and sales, Lily is definitely who you should be working with. I highly recommend her
---
---
Yavuz Altun – Exponential Business Growth Strategist
If you want to improve your sales and marketing skills, communicate more efficient and effectively, offer better financial criteria for your projects, and make more deals, you should look Lily's passion and effort for her work behind of each words and her way of caring for people how is remarkable.
---
---
Martina Coogan – CEO Mindfull London
Lily has been a tremendous help when it comes to Marketing my business! She is highly intelligent and possesses a wide array of skills to help you grow your business and provide countless useful information! I HIGHLY recommend Lily!
---
---
Adam Burak – Creative Artistic Director for Coinevents.co.uk
"Lily was absolutely great with reshaping and focusing the about section of my LinkedIn profile to increase awareness when I reach out to potential clients on the platform. The message is clear and on point, the text lists the features why to contact me and explains simply how could the person benefit the services I am offering. My about is much more on point, much more concise and it is now optimised for conversion. Thank you very much!"
---
---
Hassan Mohamed – Investment Consultant
Lily is charismatic, enthusiastic and great at enhancing sales and personal branding for entrepreneurs, authors and coaches. My name is Hassan. I am a sales director and founder of Harrison Forbes Consultancy offering immigration, visa and internship consultancy for entrepreneurs. I met Lily 2 years ago when I started out my sales career. At that moment in time I was just doing 3 sales a month and I needed to increase my sales. I have learnt how to enhance my personal brand from Lily. Her Speakers Are Leaders Programme and her partner Harry Sardinas in particular helped me to confidently speak on stage in front of more than 500 people. I look forward to collaborating with Lily in the future and I will soon become an author for sure based on the training given by Lily because I see the value in becoming branded and increasing my visibility at work too.
---
---
Jaina Ford – CEO, Author, Influencer, Mentor, Public Speaker, AI & Global Consciousness Authoritative
Lily is top in her field, offering a personalized writing experience that captures your personal voice so that your books carry your personality and not that of a generic template. She does not farm out the work on your book and is thorough in every way to get all your facts straight to tell your story. Her branding of your look, making everything cohesive is bar-none. She is a born and trained talent with her incredibly impressive skills in book writing, branding, marketing and individual coaching to grow you and your business. I can't recommend her enough to anyone interested in standing out from the crowd and labeling yourself as an Authoritative of your subject matter. Her work as a public speaker through Speakers Are Leaders is inspiring and motivational. She is engaging, and able to close the sale without the audience feeling pressured. Having Lily speak for your organization will lead you up the path for absolute success, no question about it. Much gratitude for Lily and all she has done to promote and increase my business through her influential contacts and associations. She has helped me structure my topic and product so that I have a much more clear vision of which direction I'm taking with my speeches. Her branding for me will have me looking like a billionaire and attracting billionaire business! She is truly the best person to have working with you for all your business marketing, branding and speaking needs.
---
---
Alex Garcez – No. 1 Speedreading Coach
Lily is a dynamo and I always learn something useful when I'm around her. I've attended her "Speakers Are Leaders" workshop and had the opportunity to learn new ways to monetise my knowledge. I've presented to audiences of more than 1,000 business people and my message about achieving "Flow State" and "Ultimate Performance" is very well received because I keep having great feedback from Lily every time I come up with new ideas. We keep meeting up to support each other and make a dent in the universe. Talk to her to raise your profile and make more money.
---
---
Hermione Williams – Director and Co-Founder at The Awakened Women Business Collective
I've attended Speakers are Leaders three times. Lily is passionate about ensuring you come away from this event with the knowledge and skills required to go into speaking. The event itself is intense, experiential, with plenty of chances to speak in front of others, perfect your skills, network with fellow attendees and gain new knowledge. Each event although has provided similar content I have always coming away learning something new, and improving my public speaking abilities. I highly recommend Lily and Speakers Are Leaders!
---
---
John Kenny – Coach, Author and Speaker
I have worked with Lily several times at various events over the past 2 years and her expertise and knowledge increase every time I see her. She has worked very hard launching her own brands and uses her skills to great effect and shows us all how to emulate this for effective branding in business. She has worked with several people I know writing and publishing their books and has always provided a positive outcome in terms of time, quality and results. Well done Lily. Keep up the inspiring work.
---